Encounter orangutans in their natural habitat and learn about the conservation efforts in action to protect them on National Geographic's expeditions in Borneo including the 12-day Best of Borneo.
12 Days | Kuching to Kota Kinabalu from $3,759 per person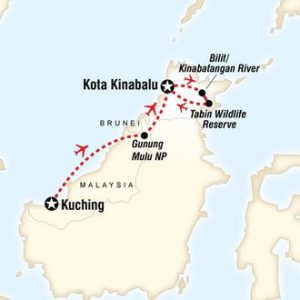 Connect with your inner animal on a 12-day journey into the unusual and awe-inspiring landscapes of Borneo.
Experience the otherworldly limestone cliffs of Mulu National Park and its famed bat exodus; encounter the orangutans of Sepilok; set off on a river cruise in search of elusive Bornean pygmy elephants; and discover the Lipad mud volcano, a mineral salt lick for local wildlife.
Contact us today for more information or to book.